May - 08
2016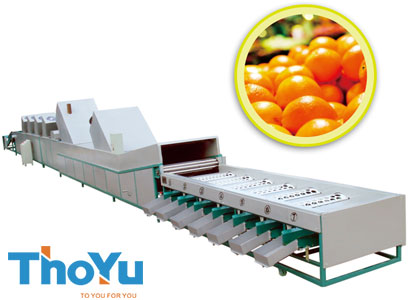 Fruit Washing Waxing Drying Sorting Machine
thoyu
Fruit washing waxing drying sorting machine is composed by conveyor part, brush blast cleaning part, automatic wax polishing part and grading part.
Features:
Centralized control, and automatic temperature control.
Low cost, and simple operation.
It is suitable for orange, lemons, citrus, mandarin and other fruits.
Technical parameters
| | | | | | |
| --- | --- | --- | --- | --- | --- |
| Model | Capacity | Grading level | Dimension | Power | Voltage |
| TYFW-5000 | 5-8 t/h | 3-6 levels | 25000*1500*1800 mm | 20 kW | 380 V |
New type fruit washing waxing drying sorting machine
Fruit washing waxing drying sorting machine consists of elevating, polishing, first drying, waxing, second drying and grading parts. It can be used for fruit washing waxing grading with leaves. Using food grade material, wavy rollers designed to ensure a perfect grading performance. Automatic feeding and conveying can ensure the rollers run smoothly and avoid damage on the fruit skin.
Features
Low noise and perfect drying effect (double drying channels).
Adopting imported wax pump and burner with higher processing efficiency.
Professional dryers can be used at all types of weather.
Fruit has beautiful shiny appearance and has the high price.
After waxing, a layer of wax membrane will be coated on the fruit to keep the fruit away from bacteria and elongate the fruit storage time.
PLC system and laborsaving.
Stable running and low noise.
Easy operation and convenient maintenance.
Application: 
all types of fruits like mango, lemon, apple, orange, etc.
Make the fruits surface bright, fresh and insect-resistant. Improve fruits commodity value.
Specification
| | | | | | |
| --- | --- | --- | --- | --- | --- |
| Model | Capacity | Grading level | Dimension | Power | Voltage |
| TYFW-8000 | 6-8 t/h | 3-6 levels | 26000*1360*1700 mm | 13 kW | 380 V |