May - 08
2016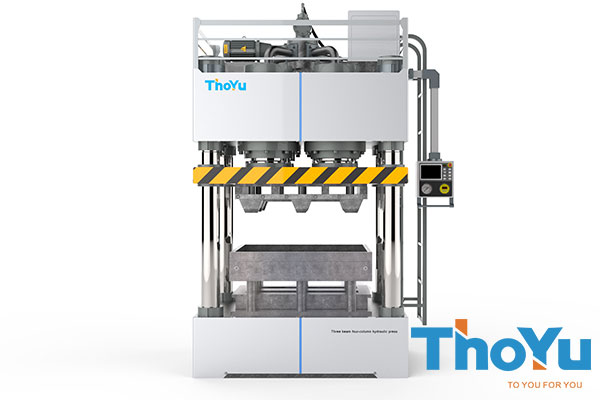 Hot Press Pallet Making Machine
thoyu
Hot press pallet making machine is designed to produce wood composite pallet one time under high temperature and high pressure, and also known as pallet making machine, wood pallet machine, wooden pallet machine and so on.
Hot press pallet making machine has achieve the fourth generation based our designing experience and our customers' feedback. The pallet is molded one time under high pressure and high temperature in the hot press pallet making machine.
Advantages of hot press pallet making machine
High temperature and high pressure can press the raw materials into pallet one time with standard size, without metal materials in the pallets.
Reasonable design of the structure. The pallet making machine is the three-beam four-column structure, which is the latest type for producing wood composite pallet.
High performance. Hot press pallet making machine is more efficient than the traditional pallet making machine.
Light weight, and beautiful shape. The new hot press pallet making machine is designed by the professional technology engineers with more than 30 years' experience.
The raw materials of hot press pallet making machine are all over the world, and easy to get.
Low investment and quick return.
Hot press pallet making machine is easy to operate, low product cost and maintenance.
Technology parameter of hot press pallet making machine
Hot Press Pallet Making Machine
Model
TY-800/1000/1200
Voltage
220 V/380 V, 50 Hz, three-phase
Capacity
120-144 pieces/day (24 hours)
Power
11 kW
Pressure
800-1000-1200 tons (adjustable)
Hydraulic cylinder diameter
450 mm
Hydraulic cylinder quantity
4 pieces
Pressing heal cycle
350 seconds
Shaping cycle
450 seconds
Weight
22 tons
Dimension
2000*1400*5000 mm
 Remarks: One set of machine includes one set normal mold.
Final pallet specification
Size: 400 mm×600 mm, 600 mm×800 mm, 800 mm×1000 mm,800 mm×1200 mm, 1000 mm×1200 mm, 1100 mm×1100 mm.
Pallet weight varied from 10-22 kg.
Loading capacity: 2-3 tons (dynamic load) and 6-8 tons (static load).
Final pallet features
Pallets are used in export package, and are ideal tools for warehousing and logistics industry.
Free fumigation and free quarantine; do not need any test before export.
According with the European standard, biodegradability.
Water proofs, insect prevention, and protection against termites, antisepticises and do not easy to burn.
Strong bearing capacity and no deformation.
Pallets can be store in bulk, save room, and easy to be transported.
Light weight, beautiful shape, and also recyclable.