Feb - 24
2016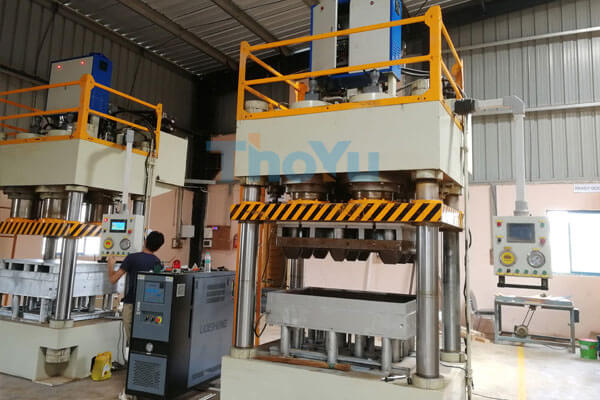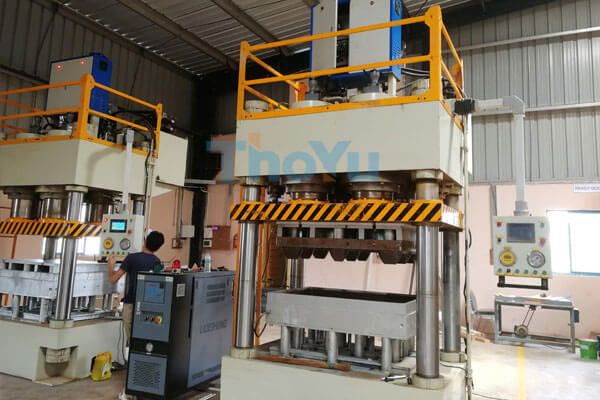 Wood Pallet Machine
thoyu
Wood pallet machine is the new type of one time forming machine, which meets the requirement of environmental protection, it can help to recycle wood waste. The raw materials used to produce presswood pallet are spreading all over the world, such as wood chips, waste wood pallets, waste wood, timbers, kraft paper, straw, bamboo, even if plastic, etc.
Advantages of wood pallet machine
We tested and pushed down many solutions and patterns and finally adopt the three-beam four-column structure.
Automated production, save labor costs, increase productivity.
Hot press process, the fina pallet is fumigation-free.
Better mold design, strong pallet load capacity, smooth surface.
High durability, long service-lift, easy maintenance.
Waste wood recycle, reduce pallet cost.
Professional technology and service team, rich overseas installation experience.
Wood pallet machine technical parameter
Model
TY-1000
TY-1200
Voltage
220 V/380 V, 50 Hz, three-phase
220 V/380 V, 50 Hz, three-phase
Capacity
180 pieces/day (24 hours)
180 pieces/day (24 hours)
Power
18.5 kW
18.5 kW
Hydraulic cylinder diameter
350 mm
380 mm
Hydraulic cylinder quantity
4 pieces
4 pieces
Pressure
0–1000 tons (adjustable)
0–1200 tons (adjustable)
Shaping cycle
350 seconds
350 seconds
Weight
22 tons
22 tons
Dimension
2000*1400*3500 mm
2000*1400*3500 mm
Remarks: it includes one set normal mould along with one set machine.
The flow chart of presswood pallet making


Chipping. Wood chipper machine can chip raw materials into wood chips, if the raw materials are large size.
Crushing. The bigger size wood chips will be crushed again in order to get better raw materials to make the pallet. The size of the wood chips after crush is about 5 cm in length, 3 mm in width, 1 mm in thickness.
Drying. In order to get better pallet, the moisture content of the raw materials should be about 5%. That means a better drying machine is necessary. The temperature of the output port should reach 80-100 ℃.
Glue mixing. The ratio of raw materials to the glue is 85:15.
hot pressing. Put the raw materials mixed with glue into the press machine, using automatic or manual operation to press, keep pressure for a little while, and then get the final pallet.
Raw materials:
Waste wood, scrap of the wood, sawdust wood chips, wood shaving, wood chips, big chips, raw wood, burned forest, logs, wood board, branches, timber, wood flakes, and waste pallets, and so on.
Contenting rich fiber also can be used to produce the pallets, such as straw, waste kraft paper, bamboo, palm trees, coconut, softwood, wheat straw, bagasse, and miscanthus, and so on.
Raw materials of wood pallet machine are spreading all over the world, which lower the investment of wood pallet machine.


Final products
Final compressed wood pallet features
Low moisture content and constant intensity and rigidity. Wood pallet is non-hygroscopic and no deformation in the course.
Stable dimension and no distortion and warping.
High precision size and light weight. It is specifically designed reinforcing rib that ensures the intensity and production accuracy.
Rounded design to prevent goods damage in the packaging and transportation process.
Stacking type. A lot of pallets can be stacked together and the height of the 50 pieces of pallets is about 7 feet.
Free fumigation and popular in the import and export transportation.