Sep - 28
2021
Regarding plastic pallets, do you know how to choose?
jimmy
Plastic pallets are the basic tools in the production, storage, and transportation of various industries. With the increasing demand for plastic pallets in various countries and the widespread application in various industries, the product quality of plastic pallets has attracted more and more attention from buyers. There are too many styles of plastic pallets, and many people don't know which one is best for them when choosing to buy. Today I will write a report on the purchase of plastic pallets for your reference:
Advantages of plastic pallets
Plastic pallets have many advantages. Compared with wooden pallets, the service life of plastic pallets is several times that of ordinary wooden pallets. Even after several years of use, the plastic pallet can still maintain its original size and rigidity. It is not easy to break during use, which can ensure the safety of users for a long time. Compared with wooden pallets or steel pallets with the same load capacity, plastic pallets are light in weight, smooth in surface, beautiful in appearance, and have no nails or thorns. When the plastic pallet reaches the end of its service life, the plastic of the pallet can be recycled.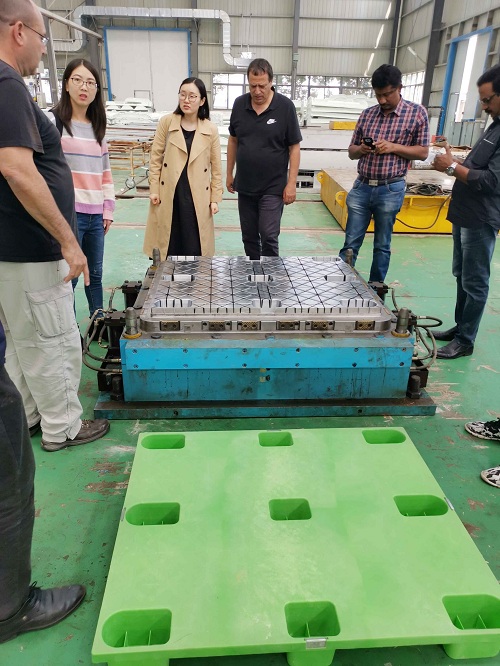 Single-sided plastic pallet or double-sided plastic pallet
When buying plastic pallets, you often meet single-sided plastic pallets and double-sided plastic pallets. So which one is better? For this issue, we should first consider the forklift we use. If you use a manual hydraulic forklift or a mixture of manual hydraulic forklifts and mechanical forklifts, you do not need to consider double-sided pallets. Because manual hydraulic forklifts cannot be used with double-sided plastic pallets. If you use mechanical forklifts and electric forklifts, you can choose single-sided pallets and double-sided pallets.
What do you need to consider when choosing a plastic pallet
1.Plastic pallet size: As far as possible, the size of the plastic pallet should be determined according to the company's own needs and the size of the materials to be stored. It is recommended to use standard-size plastic pallets.
2.Load capacity of plastic pallets: According to the weight of the materials stacked on the plastic pallet and the logistics method. You should consider the static and dynamic load of the plastic pallet.
3.Plastic pallet material: At present, plastic pallets are made of polypropylene and polyethylene. Pallets made of recycled waste plastics can be made of various materials. When the waste plastics are reprocessed, they must be crushed and cleaned.
4.Plastic pallet structure: Plastic pallets have different structures, which are generally selected according to the way the forklift works.
5.plastic pallets life: The life of plastic pallets is more than 3 to 5 years, which is mainly determined according to the usage of plastic pallets.
6.The price of plastic pallets: The price of plastic pallets is affected by many factors. Usually, the price of plastic pallets produced from recycled waste plastics is cheaper. Waste plastics can be all kinds of domestic garbage, which are usually incinerated and landfilled. Pallets made from recycled waste plastics are of good quality and are also environmentally friendly.
Choose plastic pallets according to the size of the goods
First, choose the size of the plastic pallet according to your own goods. 1200*1000 is the European standard size, and 1100*1100 is the Asian standard size. Many non-standard sizes are also used in different countries. When purchasing, you need to choose the most suitable size according to the goods you want to place. It is usually best that the goods can be evenly placed in the plastic pallet.
Choose plastic pallets according to load
When choosing a plastic pallet, you need to calculate the weight of the goods placed on each pallet, because different styles of plastic pallets have different weights. The load-bearing capacity of plastic pallets is divided into dynamic load and static load. The dynamic load is the load when the forklift moves the pallet. The static load is the load when it is placed on the ground without moving. When choosing a pallet, determine your dynamic load and static load according to specific usage requirements.
Choose plastic pallets according to the material
There are two common types of plastic pallet materials, one is new plastic and the other is recycled waste plastic. The new plastics can be divided into two types: polypropylene (PP) and polyethylene (PE). Customers can choose plastic pallets of different materials according to different use environments of plastic pallets. The PP plastic pallet can adapt to a high-temperature environment. The plastic pallet made of PE material is suitable for a low-temperature environment. The recycled plastic can be of various materials, and these waste plastics can be processed into various types of pallets by a plastic pallet production line. Plastic bottles, plastic toys, plastic cables, plastic bags, plastic bags are all recycled materials that are processed into plastic pallets.
A good plastic pallet manufacturer who wants to produce good pallets first needs to choose a good pallet machine. Different plastic pallets are produced by different plastic pallet machines. According to the production process, it can be generally divided into compression molding plastic pallet machines and injection molding plastic pallet machines. The injection plastic pallet production lines are different, but they both produce pallets through mold forming. Compression molded plastic pallets are better in terms of service life and load-bearing.
How to produce a good plastic pallet
The quality of plastic pallet machinery directly determines the quality of pallets. If you want to produce a good pallet, you must first choose good raw materials. There is a lot of waste plastic garbage in life, which can be used to produce plastic pallets. This can reduce costs while ensuring quality. First, the recycled plastic needs to be crushed. These broken plastics usually contain various impurities, so they need to be cleaned. After the cleaned plastic is aired or dried, it can be used as the raw material for the production of plastic pallets.
In the production of plastic pallets need to pay attention to each process. First, the plastic raw materials are transported into the hopper of the plastic extruder machine. There is a heating tube on the outer cylinder of the plastic extruder, and there is a screw in the cylinder. Under the heating of the heating tube and the extrusion of the screw, the plastic raw material will melt. The molten plastic enters the plastic pallet molding machine to form a plastic pallet.